The U.S. Food and Drug Administration (FDA) and the Association of Food and Drug Officials (AFDO) awards grants to local health departments and other agencies for access to the latest food safety training and education, but their grantmaking doesn't stop there.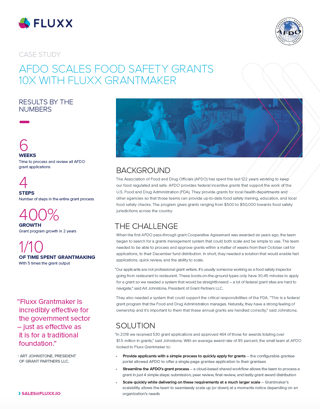 Download the case study and learn:
How grantmakers in the Government sector can capture efficiencies and innovations from the private sector

How to streamline the application, review, and approval process for their grants to local agencies

How AFDO's grantees were able to apply for their grants in just one day using Fluxx
"Fluxx allowed us to create a very streamlined application, review, and approval process, pared down to require only the most important questions and critical information." -Art Johnstone, President, Grant Partners Inc; Project Manager for AFDO Administered Retail Program Standards Grant Program.