CONNECTED PHILANTHROPY:
A Platform for Impact in Philanthropy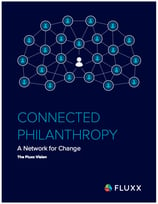 We live in a world that is changing both rapidly and dramatically. The public sector can't always keep up, which is why philanthropy needs to work harder than ever to fill the gaps and improve people's lives. This taxes the often-stretched resources and operations of those working across the philanthropic ecosystem. Fluxx believes the answer is to create a network — for both givers and doers — to bring the proven "network effect" of technology to work into the philanthropic space.
Challenges in philanthropy
How networks can act as a solution
Fluxx's vision for philanthropy