The role of a foundation's Program Officer, though rewarding, is not an easy one. They're not only experts in their specialized areas of funding, but are also relationship-builders and decision-makers.
Skills like these can take years of on-the-job experience to master. But how can Program Officers develop these skills more efficiently now? Technology offers new ways of working that improve day-to-day foundation performance and the lifelong success of grantees.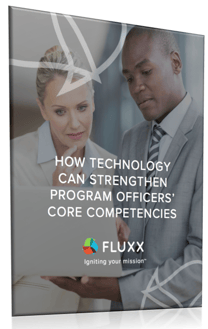 Download the whitepaper now to learn how technology can help Program Officers strengthen key competencies, including:
Knowledge and Learning

Collaboration and Partnership management

Capacity Building of Grant Partners

Grants Management
Fill out the form on the right to download the whitepaper now.