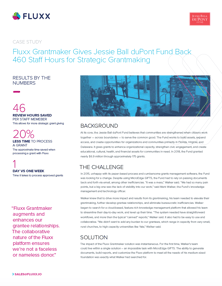 Unhappy with its paper-based process and cumbersome grants management software, the Jessie Ball duPont Fund was looking for a change.
Despite using MicroEdge GIFTS, the Fund had to rely on passing documents back and forth via email, among other inefficiencies.
"With Fluxx, everything is centralized and everyone has insight into their day-to-day work in ways that they never had before." - Mark Walker, Knowledge Management &Technology Officer
The Jessie Ball duPont Fund.
To drive more impact, the Fund needed to elevate its grantmaking, further develop grantee relationships, and eliminate bureaucratic inefficiencies.
Learn how Fluxx Grantmaker supports the Jessie Ball duPont Fund. Download the success story today.